Saturday 04 August 2012

The Pavilion at Star Lake

Burgettstown

Pennsylvania
Wiz Khalifa & Mac Miller
Wiz Khalifa & Mac Miller announce a joint concert tour dubbed as "Under the Influence"; making a stop-over in Burgettstown, PA at the First Niagara Pavilion on the 4th of August 2012.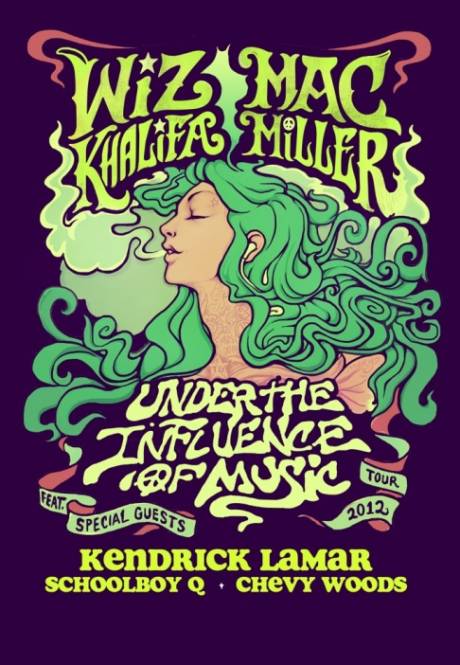 Wiz Khalifa and Mac Miller may not be blood brothers, but they profess to be brothers in hip hop music.  Both orginally hail from Pittsburg.  "I'm really excited for this tour, for the fans and as a fan of music myself. It's gonna be trippy!" Khalifa  enthuses. Miller in turn, shares his excitement:  "I'm excited to go on a tour like this because it brings a group of individuals together to move across the country as a unit to showcase great music."
Wiz Khalifa's signature lead single is the smash hit "Black and Yellow", peaked at number 1 on the Billboard Hot 100.  Yet as early as 2005, he brought his Euro-dance and urban influenced sound to urban radio playlists via mixtapes and offered his songs as free downloads.  He broke into the mainstream in 2012 with "Black and Yellow", then forges on with the release of Rolling Papers. The album debuted at number two on the US Billboard 200 chart, with first-week sales of 197,000 copies in the United States.
Mac Miller debuted with the release of  Blue Slide Park in November 8, 2011.  He is highly influenced by fellow-rapper and Pittsburg native, Wiz Khalifa, whom he considers as his    ' homie'.   He admits looking up to hip hop greats such as Big L, Lauryn Hill, The Beastie Boys, Outkast, and A Tribe Called Quest.  His music has a unique blend of hip hop meets psychedelia.  One of his mixing experiments include "Lucy in the Sky with Diamonds" by the Beatles, used as an interlude for the song "Loud".