Saturday 23 June 2012

The Pavilion at Star Lake

Burgettstown

Pennsylvania
Phish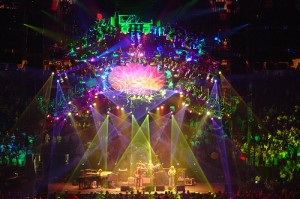 Phish is a popular American rock band most noted for its extended improvisations, elongated song compositions and the varied genres represented in their song repertoire. The band was formed in 1983 in Burlington, Vermont, United States where they all attended college. The band's lineup consists of Trey Anastasio (guitar, vocals), Page McConnell (keyboards, vocals), Mike Gordon (bass, vocals) and Jon Fishman (drums, vocals, vacuum cleaner). The band went on hiatus in 2000, but returned in 2002 only to split for what seemed for good in 2004. However, on September 30, 2008, the band announced, via their website, that they would reunite for three shows on March 6th, 7th and 8th, 2009 at the Hampton Colosseum. Later the band announced a summer tour for June of 2009 beginning with a night at Fenway Park and later added more dates in late July and August, featuring 4 nights at Red Rocks to begin the tour. The band has continued to be active since with continued touring and a new album.
Although the group received little radio play or MTV exposure, Phish developed a large following by word of mouth. Phish's music has elements of many genres including jazz, bluegrass, country, heavy metal, reggae, folk, rock, ska, pop, blues, progressive rock, show tunes, classical, acoustic, barber shop quartet and calypso.
While often compared to the Grateful Dead, Phish finds their roots in jazz and alternative rock as opposed to the Dead who were more influenced by folk, country and blues.
It's with great pride that Phish are coming to the First Niagara Pavilion. It's going to be a tremendous gig for everyone.